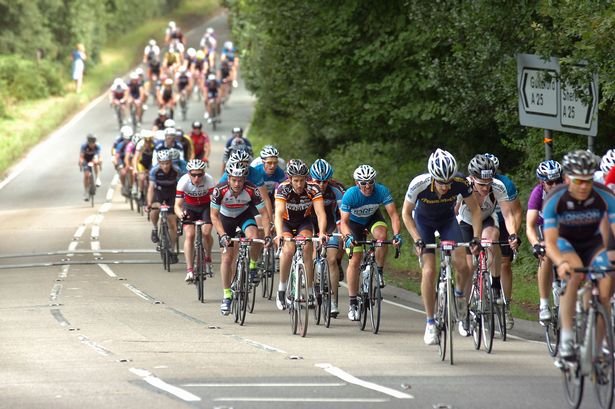 Sportive Nutrition
Updated 20th July 2017
Whether you're planning to cycle the Prudential RideLondon on Sunday 30th July, or tackle one of the dozens of other sportives around the UK, a good sportive nutrition strategy will help you get the most from your ride. Here are some simple tips on how to stay well-fuelled and hydrated during your sportive to ensure you make it to the finish. And just to let you know, I'll be on Centre Stage at the 2016 Prudential RideLondon Cycling Show 28 – 30th July. Entry to the show is FREE, so bring your family and friends, even if they're not taking part in this year's event. The Centre Stage will feature an exciting programme of presentations, celebrity interviews and entertainment.
The lead up to ride day
Your main focus during the last few days will be on fuelling and hydrating properly as well as staying healthy and injury free.
During the ride you'll be burning a mixture of fat and carbs for fuel. However, your carb store (glycogen) is limited – enough to last just 1 ½ – 2 hours – so you'll almost certainly benefit from some form of carbohydrate loading. This is the process of maximising your glycogen stores in preparation for a long endurance event, and may improve your endurance by up to 2 – 3%.
It's achieved by tapering (reducing) your training during the pre-ride week (do no more than an hour of exercise a day the final 3 days) and increase your carb intake for the final 2 days to 7 – 10g/ kg bodyweight. That's 490 – 700g/ day for a 70kg cyclist. Don't increase calories, though – just tip the balance of calories so you eat more carbs, less fat. Focus on foods such as porridge, potatoes, pasta, rice, bread, fruit and pulses. Do remember, though, that carb loading doesn't mean eating as much as you can!
The day before
Fuel up with carbs today. Stick to the foods you normally eat and don't experiment with anything new. Eat several small high-carb meals to maximise glycogen storage. If travelling, pack suitable food e.g. sandwiches, salads, fruit, nuts, dried fruit and bars. Drink plenty – that way you'll start the ride well hydrated rather having to play catch up in the morning. Your urine should be pale straw coloured.
It's best to steer clear of high fibre, gas forming foods, such as beans, lentils, cauliflower, sprouts and spicy foods, in case they upset your stomach and jeopardise your performance. Avoid eating too late in the evening and don't over-eat (no need for huge bowls of pasta!). Suitable evening meals include baked potato, chicken & veg; a simple pasta dish with salad; plain rice, fish & veg; or a turkey or tofu stir-fry with vegetables and noodles. Avoid heavy, hard-to-digest meals.
Fuel before the ride
How much and what you eat before the ride will depend on how much time you have between waking and the start of the ride. Eating something rather than nothing beforehand means you'll feel a lot better during the ride and delay the onset of fatigue. So schedule breakfast 1 – 3 hours before the ride. The less time you have before your ride, the smaller your meal should be. Include foods rich in carbs and protein. Porridge is the perfect pre-ride breakfast but extra milk, fruit and nuts will give you sustained energy. If you have at least 2 hours before the ride, eggs with toast or a generous bowl of granola with milk, yogurt and fruit are great options. If you have less than 2 hours or it's just too early for you to eat a meal, opt for a bar or banana. Drink 350- 500ml fluid 2 – 3 h before you start riding.
Many cyclists like to include coffee or tea for a pre-ride caffeine boost! Caffeine tricks the brain into making the ride feel easier and can help you keep going longer. The current consensus is approx 3mg/ kg body weight, that's 210mg for a 70kg person, equivalent to a double espresso.
At the start, sip just enough water, squash or sports drink to quench your thirst (don't overdo it, otherwise you'll be making an early pitstop!). If you're peckish, consume an extra 25g carbs, such as a banana, gel or small bar.
During the ride
Take two refillable bottles: one for water and one for a sports or electrolyte drink (take what you used during training). Pack a variety of high-carb snacks that you have trained with e.g. bars, gels, bananas, sandwiches, flapjacks and dried fruit. Prepare as much as possible e.g. cut bars in half and open wrappers to make them easier to get into to, and put them in your pockets. Try and remember what's in each pocket so you won't be searching around for a particular food while you're cycling!
Start fuelling after about 30 – 60 min and then plan to have a 'microfeed' (15 – 20g carb) every 20 – 30 min for a total of 30- 60g/ h. The key is to fuel little and often; don't over-eat but don't forget to eat either. Some riders set a regular alarm to remind them. 15g carbohydrate is equivalent to:
250ml sports drink (6%)
20g (a small handful) raisins
½ energy bar, granola bar or flapjack
½ large banana
2 energy chews
3 jelly babies
½ energy gel
You need to avoid under-drinking (dehydration) as well as over-drinking (hyponatraemia). Drink to thirst; the amount you need depends on your sweat rate, which will increase during hot humid weather and on climbs. Aim for 400 – 800ml/ h. The maximum you can absorb is 800ml. Any more will just slosh around your stomach and won't provide any immediate benefit. Drink regularly (little & often), do not force yourself to drink or drink water excessively. Drinks containing electrolytes are recommended on rides over 2 hours or when sweat losses are high.
Some cyclists like to use caffeine to give them a boost near the end of a ride. Get this from caffeine gels, tablets or chews – but only if you've used them in training.
Check in advance where feeding and drinks stations are on the route. Use the opportunity to re-fill your bottles and stock up with food. Be wary of trying new products, though – stick to what you've trained with.
After the ride
You need to rehydrate and refuel. Sip water or a sports or electrolyte drink. Rehydration can take up to 24 hours so continue drinking little and often and listen to your thirst. You'll need carbs and protein, which you can get from milk-based drinks, recovery drinks, cheese sandwiches, yogurt, protein bars, flapjacks and bananas. Then go ahead and celebrate!
If you enjoyed this post and want to find out more about food and nutrition, as well as some easy and tasty meal inspiration, then The Vegetarian Athlete's Cookbook – More than 100 recipes for active living (Bloomsbury, 2016) is a great place to start. It features:
More than 100 delicious, easy-to-prepare vegetarian and vegan recipes for healthy breakfasts, main meals, desserts, sweet and savoury snacks and shakes. 
Expert advice on how to get the right nutrients to maximise your performance without meat
Stunning food photography 
Full nutrition information for each recipe, including calories, carbohydrate, fat, protein and fibre